Christine Reimer, BFA, Dip.Ed. University of Victoria
March 2021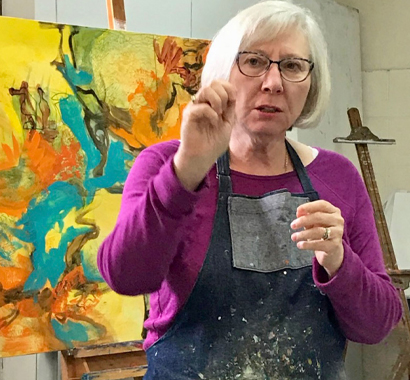 Background
Christine Reimer has a Bachelor of Fine Arts In Visual Arts and Diploma in Education from the University of Victoria. As a professional artist for more than 35 years her acrylic on canvas paintings have been shown in more than 40 solo exhibits. Galleries in both Canada and the USA have successfully represented her work since the 1980s.
Artist Statement
I have always considered painting a discrete language, not of words but of perception or feeling. Paintings possess the unique qualities of the artist, but the nuances of meaning are open to interpretation by the viewer.
Most of my career as an artist has been focussed on interpreting landscape and nature in my paintings. Sharing my love of vibrant colour and vigorous brushwork has been a joyful pursuit, and I am proud of the rich and diverse body of work I've created over the years.
But in art, as in life, there are no boundaries to learning and growth. My work underwent significant change a few years ago when I shifted from a Fauvist style of painting to Abstract Expressionism, a style I had always wanted to explore. Representational images have mostly disappeared in my recent work featured here, however my use of colour and energetic brushwork remain.
My creative work continues to be influenced by the fragile attributes of nature and its precarious relationship with humanity. Its beauty leaves me in awe, and instills a visceral and organic symbolism in my abstract paintings. Like music, some pieces resonate more than others depending on what associations the viewer brings to the experience. Subtle gestures, mark-making and colour shifts may stimulate the viewer's personal sensibilities. And just as a language can be acquired through interaction, so, too, can the ability to perceive the mood, or subtext, of an abstract painting.
---
…"Paintings possess the unique qualities of the artist just as handwriting does. However, the nuances of meaning are more open to interpretation in a painting. Like music, some pieces resonate more than others with the viewer. Subtle gestures, mark-making and colour shifts may reflect the personal sensibilities of the viewer if open to this interaction. Just as a language can be acquired, so too, can the ability to perceive the mood, or subtext, of an abstract painting."

Christine Reimer, 2017