Victoria Times Colonist, May 2022
ARTIST'S BRUSH WITH FRUSTRATION AFTER PAINTING STOLEN FROM REC CENTRE'S GALLERY
"Saanich police appear to be narrowing the search for the person who stole a piece of art from the Cedar Hill Recreation Centre last week."
"Frustration, disappointment and irritation have coursed through the abstract artist's veins and coloured her thoughts over the past few days as she wonders why anyone would have stolen a small painting from her "Colour of Dreams — Painting Metaphors" exhibit, which runs until Sunday."
"It's not the cost of the piece nor the hours of work that went into it that bother Reimer. It's not even the fact it took decades of honing skills and abilities with a brush to put the piece together."
"It's the principle of the act."
Full article:
– Andrew Duffy, Times Colonist, May 4, 2022
---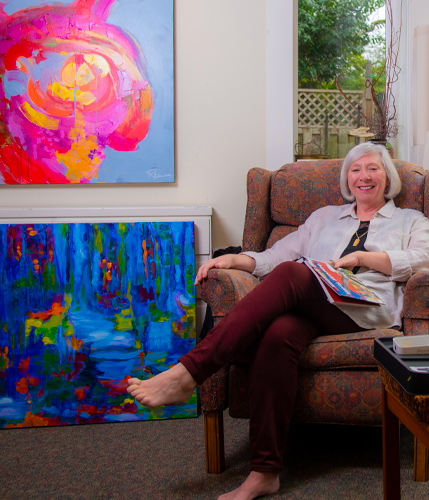 Far & Wide Marketing Inc., September 2020
Christine's passion shifted to abstracts in 2014. This major departure from her earlier work required a significant effort to reestablish herself in the contemporary art community. In many respects, Christine was starting her career all over again.
We love Christine's new work and have two of her originals in our private collection. We also admire her heartfelt conviction to pursue a new direction that she's passionate about. Many wouldn't risk leaving a successful style and dedicated following behind, even if their hearts were no longer in it.
---
Cowichan Valley Voice, November 2019
Christine Reimer: at Imagine That!, Duncan, BC, November 2019
Beginning in 2014 Reimer's paintings became increasingly complex and and are now best described as Abstract Expressionist. Most of her works have a highly textured surface and incorporate multiple layers of glazing combined with distinctive mark-making. Throughout her painting career energetic brushwork and a vibrant colour palette have distinguished her unique style. Her inspiration is rooted in the …"spectacular landscape we are privileged to enjoy in British Columbia and Canada. …. I have always considered painting a discrete language, not of words but of perception or feeling. Paintings possess the unique qualities of the artist just as handwriting does. However, the nuances of meaning are more open to interpretation in a painting. Like music, some pieces resonate more than others with the viewer. Subtle gestures, mark-making and colour shifts may reflect the personal sensibilities of the viewer when open to this interaction. Just as a language can be acquired, so too, can the ability to perceive the mood, or subtext of an abstract painting."
---
Times Colonist, February, 2019
Enchanted Pool, a 36-by-36 acrylic on canvas by Christine Reimer, is among paintings in her Found Beauty exhibit at the Arts Centre at Cedar Hill, 3220 Cedar Hill Rd., Feb. 12 – March 3.
---
Focus Magazine, January/February Issue 2019
Christine Reimer: Found Beauty, February 12 – March 3
at Main Gallery, Arts Centre at Cedar Hill
Five Years ago artist/painter Christine Reimer, BFA made a dramatic shift from painting landscape to exploring Abstraction Expressionism. This challenging genre has facilitated new painting techniques, thus sparking a fresh approach to her subject matter and influencing the reflective quality, texture and light in her canvases. In "Found Beauty" Reimer views the natural world with a new perspective and deepened understanding of its importance in our lives.
---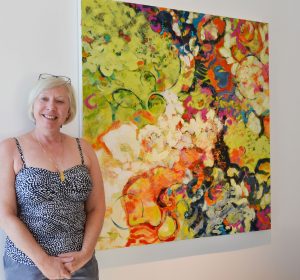 Victoria Times Colonist, May 2014
"NOW SHE HAS OPENED HERSELF CREATIVELY AND FEARLESSLY"
Always confident, she was able to enjoy waiting for the appearance of what she calls a 'random perfection'. To her this paradox now was central to her work 'looking for that perfect thing which comes out of a random act'……"
"Reimer's long experience with a brush has equipped her with a wide repertoire of mark-making strategies. Previously, Reimer composed her work with flowing brushstrokes of solid colour, but now she has opened herself creatively and fearlessly. The current canvases employ an aggressive edge of paint applied with a palette knife, and the linear rhythmns of a comb drawn through the wet paint. The familiar buttery smoothness of her paintwork is now accented with rough texture built up with pumice. Her colours are often broken with complementary hues scumbled on top. Scratching into the paint with a stick, her sgraffito allows the colours beneath to show through. Taking delight in the chemistry available with modern acrylic paints, she adds craquelure."
"…as she described the paintings in front of us, it was clear that her work is now evidently a voyage of discovery."
Full article:
– Robert Amos on Art: Artist finds a focus in the abstract, Victoria Times Colonist, May 16, 2014
---
Art Openings, May 2014
artopenings.ca

For a detailed commentary on the May 2014 show, see Art Openings. Excerpts of comments on opening night include:
"This artistic journey has landed Christine in a brand new place"
– Sally Stubbs, playwright and drama instructor with master degrees in Art History and Creative Writing
"The paintings are "a suite of self-portraits, both energetic and evocative". "Christine has shown great courage with this series…by following her muse and going off-script."
– Ken Campbell, established BC artist,
"Each piece in the exhibition is unique and refreshing,showing the artist's new perspective and mode of expression."
– Jackie Hamilton, Board Member, Art Gallery of Greater Victoria
---
Victoria News, May 2014
"The Saanich artist, well-known for her vibrant landscapes effectively locked herself away in the studio to start 2014…….There she slipped out of her three decades of stunning acrylic-on-canvas paintings capturing the rugged energy of B. C. and Alberta. She layered and layered acrylic, then scratched away before adding acrylic again until a full collection presented itself. ….. The 35 works set to display in Saanich this month are thoughtful, with aspects of the artist looking at life, death, truth and beauty."
" ….'They're interpretive' Reimer said. 'When I started I didn't know what they would end up being. They're very much an exploration. I'd like people to interpret. I want them to respond in a visceral manner'…..Thus the title Transition – Visceral Landscapes"
"As a well-established artist, the dramatic shift in subject matter and technique is a risk, but one worth taking."
Full article:
– Christine van Reeuwyk, Saanich Painter Transitions to new look, Saanich News, Victoria News, May 16, 2014
---
Times Colonist, 2012
"… "Artist Christine Reimer uses a traveller's vernacular when speaking about her work. "I don't really choose the direction I go", she said. "I get led". When she veers from the path of her painted landscapes, her best-known work, she calls it a "creative detour"."
"Painting is also a journey in the literal sense of the word for Reimer who grabs her camera and her husband and hits the road for what she calls "bus-man's vacations". They map out a route in advance, with special attention to the spots they expect to be the most picturesque. But Reimer always has her eyes open for that just-right image. "There's just a moment that captures, for me, the essence of a place"."
"The results are vibrantly coloured portraits of a place. In Evening Light on Quadra Island, the sky is alight with daubs of orange, yellow and periwinkle. There's red in the evergreens and on the rocky shore and the water's full of hued movement. …"
PROFILE: CREATIVE DETOURS Read full article:
– Amy Smart, Arts Columnist, Times-Colonist, June 3, 2012
(A review written in conjunction with the opening of a June 2012 solo exhibition entitled "Peaks, Islands & Beyond, 30 Years of COLOUR")
---
Peninsula News, August 2006
"…like looking at stained glass windows drenched in full sunlight – dazzled by colours and their relationships to one another…"
"…whether painting the Okanagan wine country, the hill towns of Tuscany or secluded inlets on the Gulf Islands, Reimer paints not just what she sees, but what she feels…"
"…a powerful individuality supersedes stylistic echoes of anyone else…"
– Grant Hayter-Menzies, "Paintings are theatre on canvas", Peninsula News, August 18, 2006
---
The Calgary Sun, June 1998
"Christine Reimer is putting her thumbprint on art history by painting colorful, non-conformist works. The non-conformity, however, is not deliberate. Reimer is simply an independent artist with a talent for looking at traditional subjects and painting them in a fresh, new way. She churns acrylic ideas around on canvas, turns them upside-down and inside-out. In the process, new ideas emerge out of old ones. New characters appear. Old characters reappear."
– Cinnamon West, "Showcase", The Calgary Sun, June 14, 1998
---
Boulevard Magazine, May 1998
"…her artistic universe takes shape and form, rising from the canvas in organized revelry, becoming worlds of glowing rocks and gleaming water; moonlit, musical cafes; whimsical garden parties; architecture in her tropical colours; and reclining figures lost in reverie. Reimer's impressionistic, sunlit world is fueled by the energy of colour and the power of imagination."
"…her artistic universe takes shape and form, rising from the canvas in organized revelry, becoming worlds of glowing rocks and gleaming water; moonlit, musical cafes; whimsical garden parties; architecture in her tropical colours; and reclining figures lost in reverie. Reimer's impressionistic, sunlit world is fueled by the energy of colour and the power of imagination."
– Kate Cino, "Front Row", Boulevard Magazine, April/May 1998
"It seems natural that the resplendent surroundings of Sooke Harbour House are the home of more than 30 of Reimer's originals. Co-owner Sinclair Philip speaks exuberantly about Reimer's work, calling it "uplifting, luminescent and popular with visitors from around the world."
"Sooke Harbour House has just been rated Best Restaurant in the World for Authentic Local Cuisine by Gourmet magazine. "Maybe that's why we resonate so well with Reimer's artwork," says Philip. "We're both transforming the local and unique aspects of our environment into an aesthetic and inspiring experience by using our creative energy."
– Sinclair Philip, Co-owner of Sooke Harbour House, "Front Row" (Kate Cino), Boulevard Magazine, April/May 1998
---
Oak Bay News, April 1998
"Christine Reimer is obsessing with color. At the moment it's cobalt blue. Next week it might be cadmium yellow or fire engine red…Reimer is prolifically creating big, brave works literally exploding with color…her dreamy, mysterious images conjure up Chagall and, though it's easy to draw out plenty of symbolism, Reimer suggests the message isn't intentionally ambiguous."
– David Lennam, "Color lady shows her stuff", ARTS, Oak Bay News, Wednesday, April 22nd, 1998